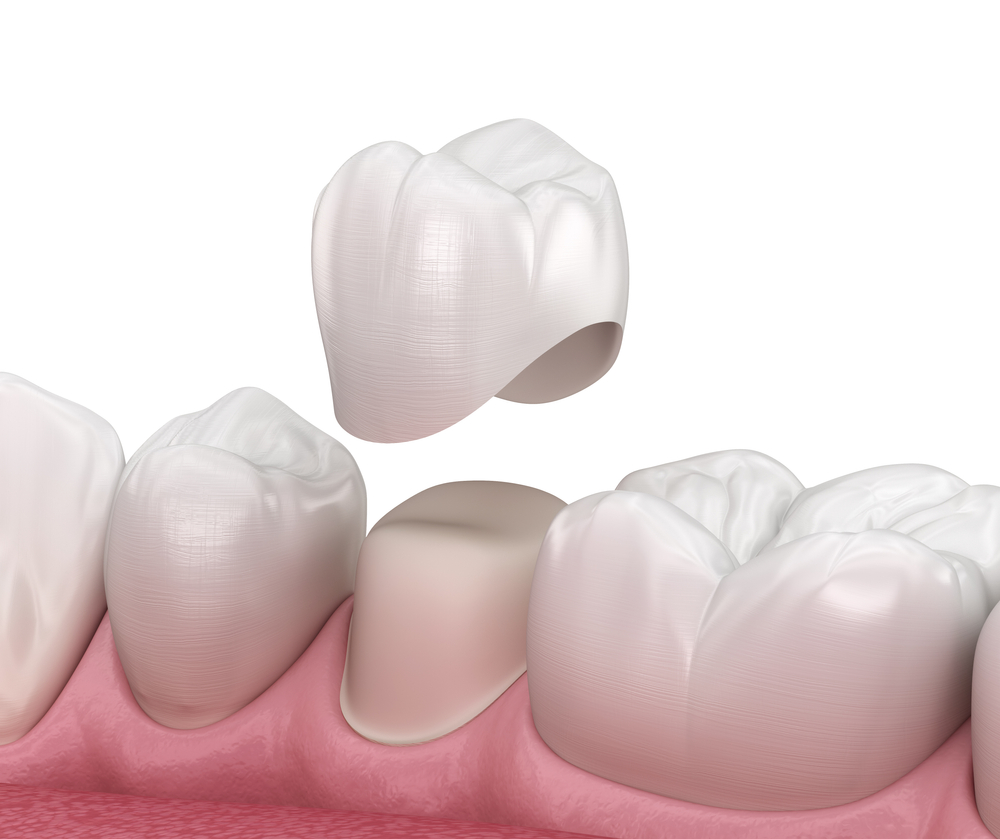 Your total oral health matters to Leland C Wilhoite, D.D.S., P.C. and our team. Along with protecting and preserving your teeth, gums and bones, we want to restore and protect the aesthetics of your smile, too.
Dental crowns are the perfect combination of these goals. A reliable treatment for damaged teeth, they simultaneously improve the appearance of your smile and can provide necessary support for dental implants, fillings or dental bridges.
Best of all, dental crowns are versatile and can repair anything from a small crack to a significant break or injury.
What is a Dental Crown?
Dental crowns are a cosmetic dentistry solution that both repair damage to natural teeth and restore the appearance of your smile. For example, if a patient experiences a significant mouth injury resulting in a noticeably chipped front tooth, a ceramic front tooth crown can be attached.
Dental crowns are also an excellent preventative measure for treatments such as root canals. If a crack, chip or decay is left untreated in a tooth, infection can spread deeper into the soft tissues of a tooth's roots. When this happens, endodontic treatment is needed to fully heal and prevent permanent damage.
Sometimes, if a patient has already had a root canal or major dental filling, a permanent crown is used over the affected tooth to restore aesthetics. Different types of crowns include metal, ceramic or porcelain crowns. All are very durable and long-lasting.
What Happens During the Dental Crown Procedure?
Our team of oral health professionals at Wilhoite Family Dental will begin the process by closely examining your teeth and making sure they are healthy enough for the procedure. This can include taking x-rays and potentially adding extra filling material to your tooth if it is missing too much natural surface space to support a crown.
From here, we will reshape your tooth so your crown will fit perfectly when attached. An impression is also made of your tooth during this stage so we get the exact size, shape and features for creating your crown. We maintain a wide network of oral health professionals who assist us with creating custom-made crowns in their dental laboratory.
In preparation for attaching your permanent crown, our team will give you a temporary crown to prevent any damage or injury to the impacted area. Your permanent crown should be ready for attachment within two to three weeks.
How Do I Take Care of My Dental Crown?
Since dental crowns are specifically designed to look like and function like natural teeth, you must care for them as such. This includes brushing your teeth twice a day with fluoride toothpaste, flossing, maintaining regular dental hygiene appointments and wearing an athletic mouthguard when playing contact sports or doing physical activities that may damage your teeth.
Sometimes, though, replacements are needed. We are pleased to offer implant restoration services to Muncie, Yorktown, Anderson, New Castle. If you experience a crack, chip or injury to your crown, call us at (765) 289-6373 to schedule an appointment and get a custom-made replacement.
Looking for Dental Crowns in Muncie and the Surrounding Muncie, Yorktown, Anderson, New Castle?
At Wilhoite Family Dental, our expert team specializes in dentistry solutions that repair your smile and mouth back to total oral and aesthetic health. Call our office at (765) 289-6373 to discuss all of the services we offer to restore, protect and maintain your teeth.